News
BRAND NEW SERIES - The CHRONICLES OF ERNE
20th February 2020
NEWS RELEASE
WADDELL MEDIA'S STUNNING NEW SERIES HIGHLIGHTS THE BEAUTY OF LOUGH ERNE
· The Chronicles of Erne starts Monday 24 February on BBC One Northern Ireland at 7.30pm
Filmed over a year, The Chronicles of Erne is a new 4 part series made by Waddell Media for BBC Northern Ireland. It charts the passing of the seasons through the eyes of the people who live and work on Lough Erne in county Fermanagh, capturing the stunning scenery and tranquillity of its waterways.
David Cumming, Executive Producer, Waddell Media said: "Lough Erne has been a centre for human activity for thousands of years and now attracts around 350,000 visitors annually. With more than 150 islands and 500 square kilometres of water the Erne provides a sanctuary to the people who live around its shores and to some of Europe's most endangered wildlife species.
"Over the next four weeks, viewers will be treated to spectacular aerial shots of the waterways and the myriad of islands and time-lapse filming getting up-close to the wildlife often hidden from view. The Chronicles of Erne follows our critically acclaimed series on the Mournes as once again we follow the people who have a special relationship with the Erne and tell their stories as they take us to the hidden gems on the lakes, the nooks and crannies where the big boats can't get to, revealing treasures and untold tales.
"We use a variety of techniques including drones and time-lapse photography to bring familiar landscapes and secret corners of the Erne to life in a spectacular fashion. The landscape and weather is as much a part of the programme as the people we follow and their relationship with their natural surroundings is the overall theme of the series. The series is about the Erne but it's also about the human condition and our place in the world, it offers an escape from the never ending churn of global politics and a glimpse into a lifestyle where saving, preserving and taking time to enjoy the environment takes centre stage. "
Armagh actor Colin Morgan, star of The Fall, Humans and Merlin, narrates the four episodes and takes viewers on a journey through a different season each week, starting with Spring.
Veronica Cunningham, Series Producer, Waddell Media says: "Today's tribe of river people highlight the sanctuary and spirituality of the Lakes as the series reflects on how simply being on the Erne, taking time to take in its beauty can provide solace and have a beneficial impact on mental health. A focus on small details brings the viewer into an appreciation of living for the moment and celebrating the wonders of the world around them.
"We meet some amazing people in this series. There's retired school teacher Pat Lunny who is found on the lough most days enjoying the tranquillity of nature; Amy Burns of RSPB NI for whom the Erne is her office; two retired engineers, Robert and Mike, search the lough's depths for unexplained objects on the seabed and young nature writer, Dara, explains how the area has such a positive effect on him and his health while Dublin-born painter Lorna Smyth is about to begin a year-long project capturing a year on Lough Erne. For others the Erne has brought them together – a local community group, Row The Erne, built a traditional Currach – a 'floating community centre' as it has been described. It's wonderful to tell their stories and show the beauty of the Erne in this new series."
Richard Weller, Series Director, Waddell Media says: "What we have tried to do with the series is give people the space to relax and absorb the beauty of the Erne. In this hectic world, it's important for our mental health to sometimes take time to appreciate what's around us. The people we follow in the series do this and we really hope their passion inspires the viewer to do the same."
The series was written, filmed and directed by Richard Weller for Waddell Media with Series Producer Veronica Cunningham, Executive Producers David Cumming and Mike Connolly, Director Sarah Breen, Editors Paul McFarlane and Brendan McCarthy.
-Ends-
For further information contact Orla McKibbin, Communications Consultant, Waddell Media on
[email protected]
or call +44 (0) 7879 666427.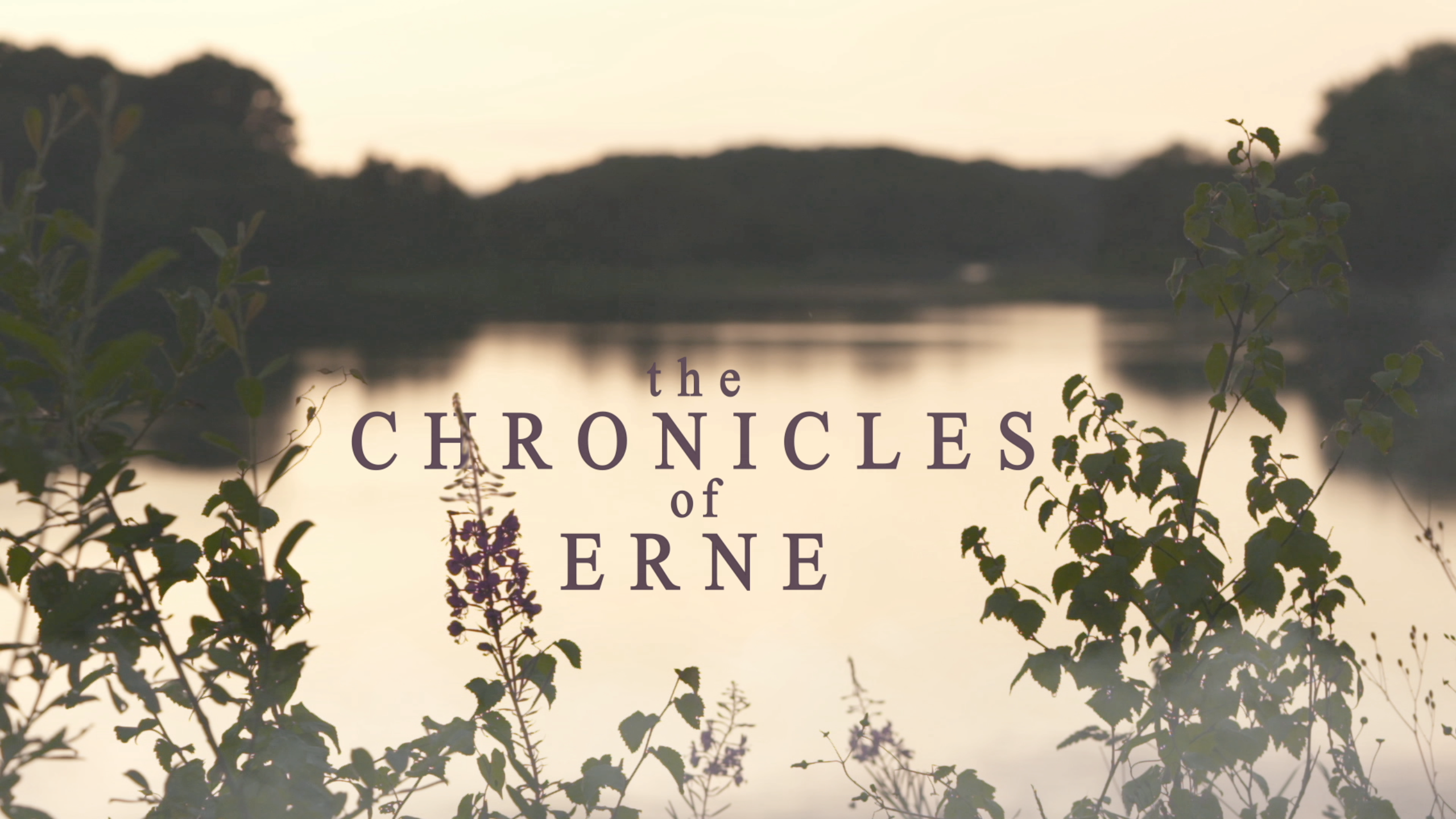 FLICKERPIX SETS ITS SIGHTS ON DIRTY BERTIE FOR NEW ANIMATION SERIES
7th February 2020
NEWS RELEASEFLICKERPIX SETS ITS SIGHTS ON DIRTY BERTIE FOR NEW ANIMATION SERIES
Flickerpix, one of Northern Ireland's leading animation companies has acquired the rights for the bestselling children's fiction book series 'Dirty Bertie' with plans to develop a new 26 part television animation series. The deal was struck with Christine Isteed of Artist Partners on behalf of illustrator David Roberts and Kate Shaw of The Shaw Agency on behalf of author Alan MacDonald.
Flickerpix is the animation arm of leading independent television production company Waddell Media and will be showcasing 'Dirty Bertie' at next week's Kidscreen Summit in Miami (10 – 13 February). Kidscreen is renowned as the kids' entertainment industry's most important event with representatives from 50 plus countries.
The new animation series which is currently in early development using 2D - CGI technology will be aimed at 5-8 years old focusing on the madcap adventures of the messy, disaster-prone boy Dirty Bertie and his overactive imagination. The book series, illustrated by David Roberts and written by Alan MacDonald and published by Stripes Publishing has already won the hearts of children worldwide with more than 1.7 million copies and 33 titles sold which have been translated into more than 27 languages.
Jannine Waddell MBE, Managing Director, Waddell Media says: "We are delighted to have secured the rights for Dirty Bertie and look forward to bringing the series to life and an even bigger audience through the medium of television animation. Next week's Kidscreen Summit will enable Flickerpix to pitch Dirty Bertie to an impressive audience of broadcasters, investors and potential partners as the series has huge potential internationally with the right backing."
David Roberts, creator and illustrator, Dirty Bertie says: "I'm so excited for Bertie and his friends to see where this new adventure with Flickerpix takes them. More silliness, more giggles and more FUN!"
Alan MacDonald, writer, Dirty Bertie says: "I'm very excited to be working with Flickerpix on developing 'Dirty Bertie' for TV. I've always felt the character and the stories have enormous potential for animation and Flickerpix has proved to be the perfect home for them. Fans of the books often ask me when 'Dirty Bertie' will be on television and before long I hope I'll have an answer for them."
Johnny Schumann, Creative Director, Flickerpix says: "Children love Bertie and his madcap adventures, with Alan's fast-paced stories and David's witty illustrations we feel these books are a perfect fit for animation. There are currently 33 Dirty Bertie titles offering a wealth of material for our series with 100 wickedly funny short stories. We are delighted to be working with David and Alan to bring Bertie to life."
Dirty Bertie is being developed by Flickerpix with funding from NI Screen and BFI Young Audiences Fund.
-Ends-
For further information contact Orla McKibbin on 07879 666427 or email
[email protected]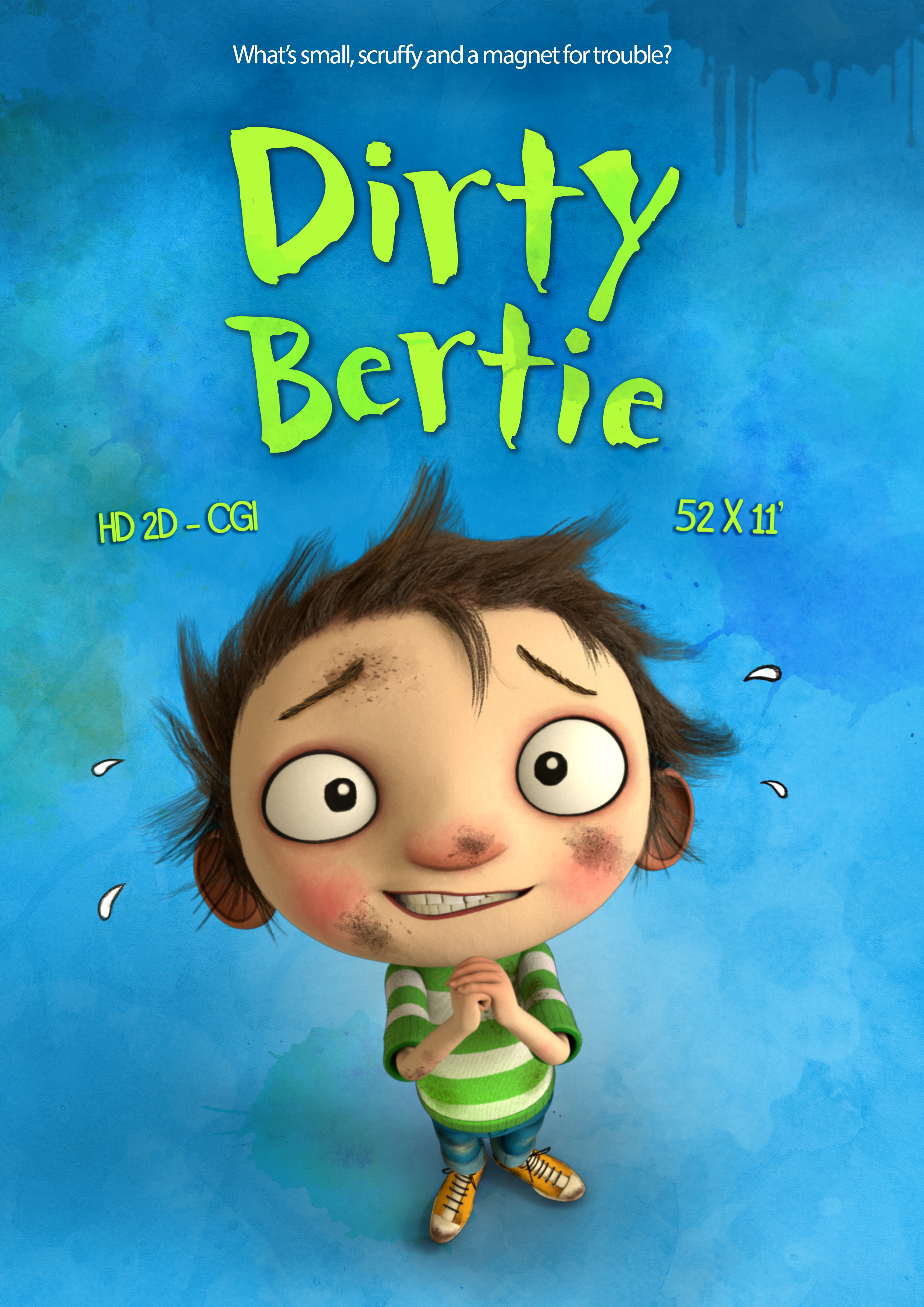 WADDELL MEDIA ACTIVE ON AMAZON PRIME VIDEO
17TH JANUARY 2020
Some of our past shows are now active on Amazon Prime Video in Australia and New Zealand. Feel free to share the links and news with friends and colleagues and if they would like to leave a 5 star review on Amazon or IMDB.com.


Inside the Merchant

https://www.primevideo.com/region/fe/detail/0GZ2LIBZ61GNR5D6KGWEEKHZB8/ref=atv_sr_def_c_unkc__1_1_1?sr=1-1&pageTypeIdSource=ASIN&pageTypeId=B07ZS4864B&qid=1572920653


The Hotel Fixers Seasons 1-9

https://www.primevideo.com/region/fe/detail/0JTDJCN089BYWKZLA0YGJRSX71/ref=atv_dp_season_select_s1


Greatest Gardens

https://www.primevideo.com/detail/0MAVV1C5XRQC62DRL9U1857NJX/ref=atv_sr_def_c_unkc__1_1_1?sr=1-1&pageTypeIdSource=ASIN&pageTypeId=B07YCVPRNK&qid=1569461424


Francis Brennan's Grand Tour India

https://www.primevideo.com/region/fe/detail/0FJX5UFUM2QF3NNK7EPV2SEBYE/ref=atv_sr_def_c_unkc__1_1_1?sr=1-1&pageTypeIdSource=ASIN&pageTypeId=B07ZQS5YGM&qid=1572920601


The Farm Fixer Seasons 1 & 2

https://www.primevideo.com/detail/0GUT3KR9RJUS1IS8YR8TZCRUED/ref=atv_sr_def_c_unkc__2_1_2?sr=1-2&pageTypeIdSource=ASIN&pageTypeId=B07Z5FY2G7&qid=1571712656

https://www.primevideo.com/detail/0SXL9SJA1U3KB65G4BMJOUJJQ5/ref=atv_dp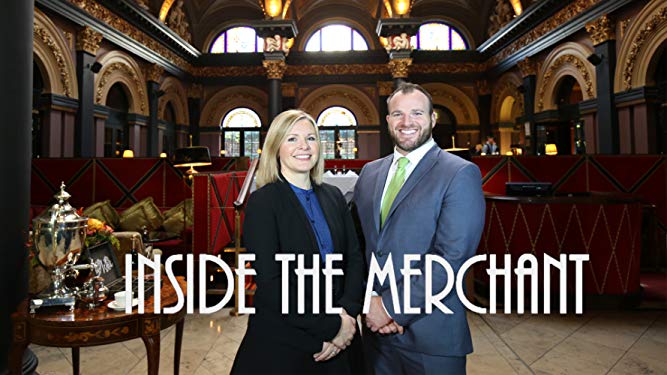 GETAWAYS Travel Series Is Back!
6th January 2020
Fasten your seatbelts, forget the winter weather and let the new season of Getaways transport you to some great holiday destinations.

The series kicks off in the Balearic island of Menorca with 2 new presenters, Holly Hamilton and JJ Chalmers, joining the Getaways team. JJ is a former Royal Marines Commando and Invictus Games medallist, Holly is a sports reporter, appearing regularly on BBC Breakfast's red sofa.

Getaways features holiday destinations you can reach directly from Scotland and the island of Ireland. Over six weeks, the show will report from Menorca, Philadelphia on the eastern seaboard of the USA, Prague and Brno in the Czech Republic, the northern Croatian resorts of Opatija and Rijeka, the Greek island of Crete and Seville in southern Spain.

Over the series the presenting team will also see Joe Lindsay back on board, he'll be joined by another new face to Getaways, Jennifer Reoch.

Viewer recommendations will drive the show and our presenters will check out the activities and highlights that have come directly from viewers.

In addition, every week a guest presenter fronts a short getaway, a break closer to home. In the first programme, Eamonn Holmes rekindles childhood holiday memories in the Glens of Antrim. Other guest presenters are broadcaster and journalist Kirsty Wark, actor Atta Yaqub, Diona Doherty (Derry Girls), Jean Johansson and Kristian Nairn ('Hodor', Game of Thrones).

In Menorca, Holly and JJ kick off with those all-important beaches. They splash out at a waterpark, take in the views from an extraordinary cliff-face bar, check out the capital, Mahon, go lobster fishing, visit the white-washed village of Binibeca, see the famous Menorcan horses in action, admire the architecture of Ciutadella, and there's even time for kayaking and snorkelling.

BBC Scotland - Thursday 9th January - 8pm
BBC Northern Ireland - Monday 13th January - 7.30pm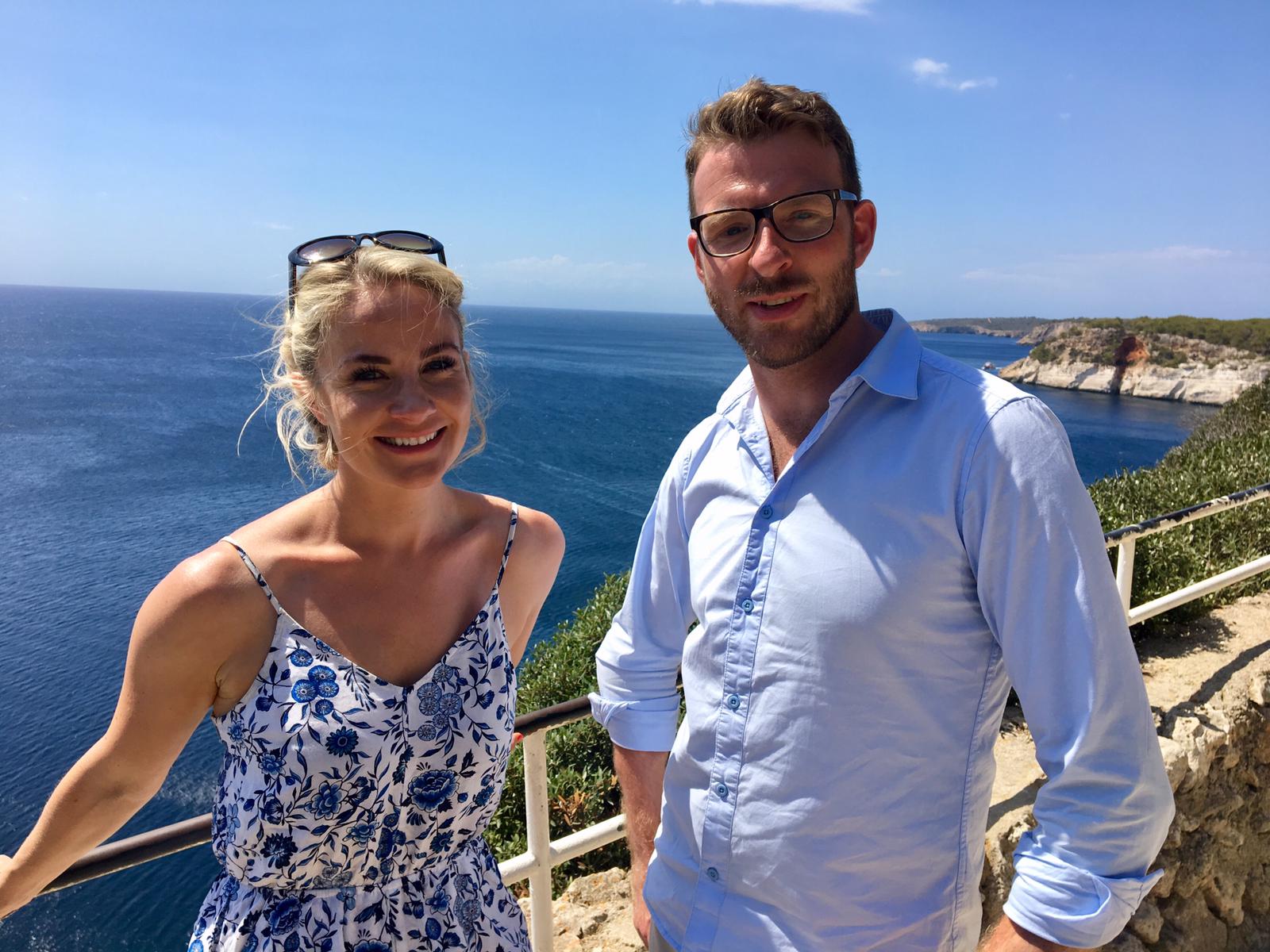 New TV series Francis Brennan's 5 Star Training Academy
16th December 2019
Francis Brennan's 5 Star Training Academy seeking contributors!
Hotelier and TV personality, Francis Brennan, is on the hunt for new recruits for his brand new 5* training academy.
To be in with a chance to be trained by Francis in the world of 5* hospitality, please follow this link
https://submit.link/5star
Or for any queries please email
[email protected]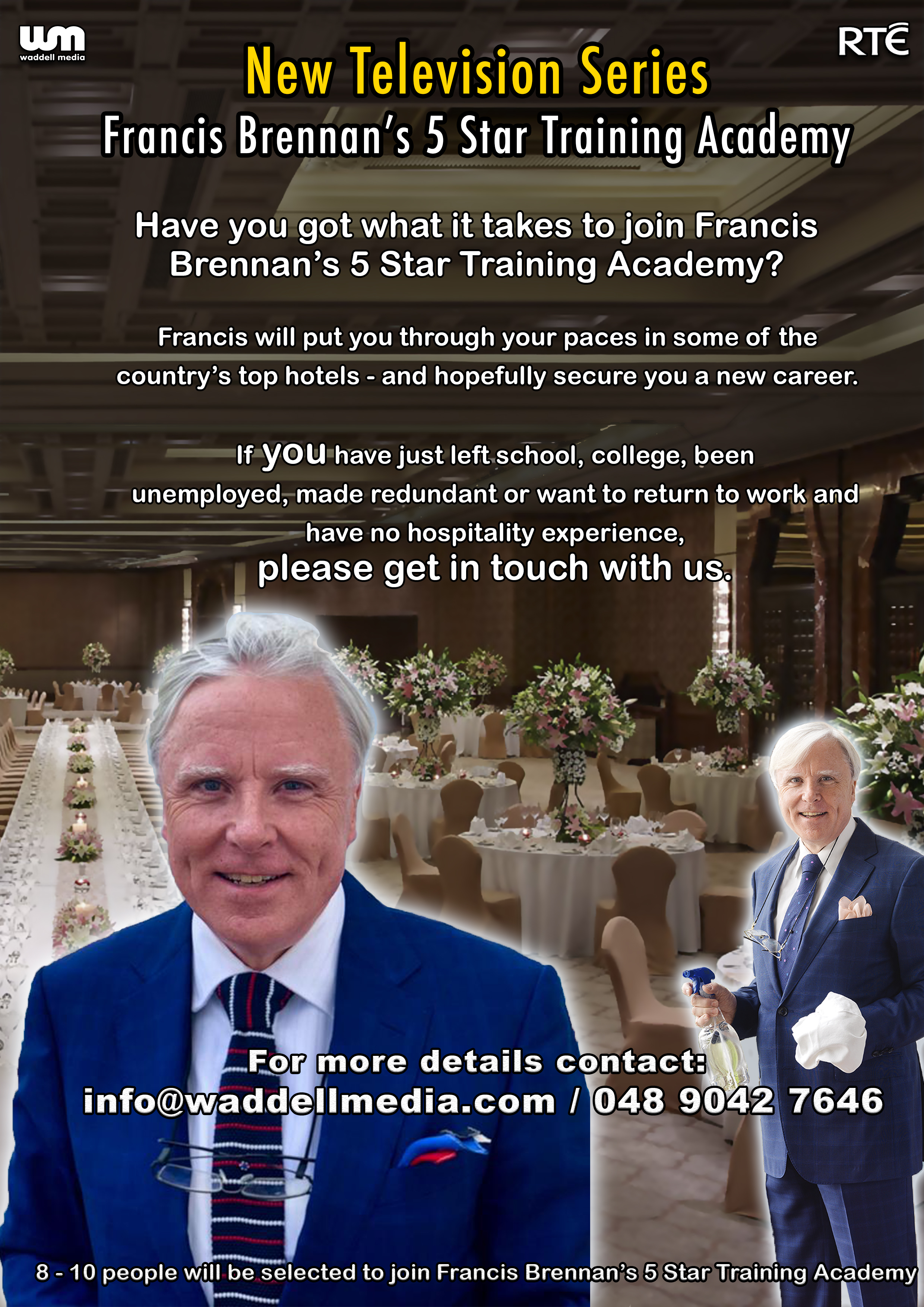 Pages